The beauty of bespoke furniture design
Moretti Blog   •   March, 2022
The term 'bespoke' can apply to custom-made furniture which is designed specifically for your individual needs. By this, I mean each piece can come in any shape or size and it will tell a personal story. And this implies the design possibilities are endless. Bespoke furniture design is a key part of our process. In fact, we work closely with specialist joiners to create one-off pieces of furniture, which will be fit for purpose and look super-stylish, too.
Bespoke furniture design explained
Bespoke furniture design covers any type of furniture, which is custom-made. The reason we tend to use this method for our clients is because you can have pieces of furniture, which will fit seamlessly into your home, and meet your exact requirements. At Moretti Interior Design, we commission furniture design experts who only work with the highest quality materials. However, what really sets them apart is their ability to design and create unique pieces of furniture, which will fit neatly into any awkward space or corner.
We make our bespoke furniture according to your precise specifications and every piece will be designed exactly how you want it to look. This will give you the best value for money and ultimately enable you to maximise every space in your home. However, this also enables you to benefit from a unique piece of furniture, which has been made precisely for you.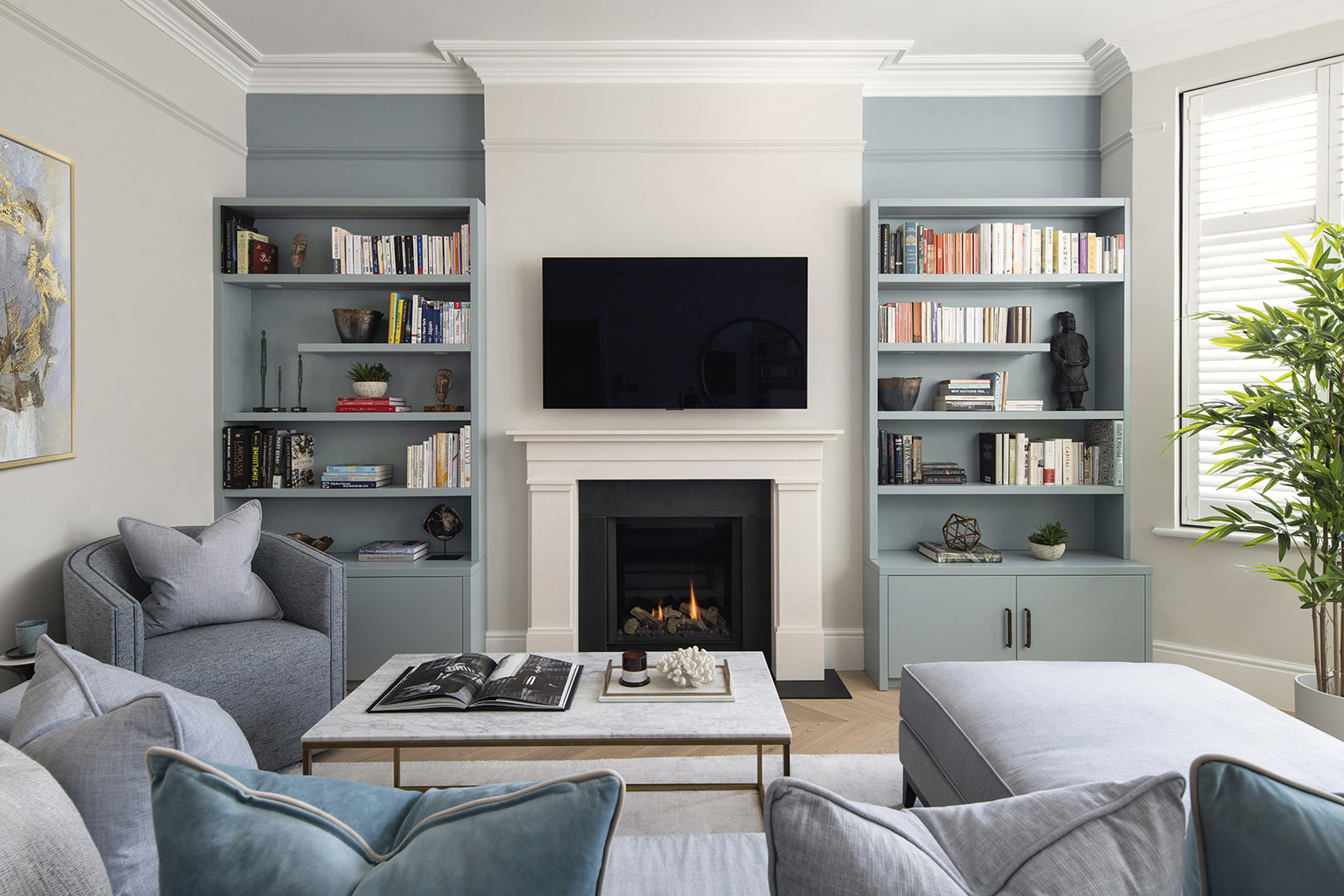 In this living room in a Victorian family home, our brief was to create a nice, bright area during the day with a cosy, warmer feel in the evening. So, we integrated lighting into the bespoke display shelves within this cabinetry. We finished the look with Little Greene's Bone China and antique brass handles to complement this period property. These symmetrical storage and display cabinets not only look super-stylish but they make watching the TV, the focal point in this room, less distracting for viewers
Where to use bespoke furniture
With bespoke furniture design, we enable you to benefit from the most versatile storage solutions. Not only can you enjoy a statement piece but internally you'll also find the options are endless. Consider a master bedroom where you'll be looking to escape into a retreat and enjoy a good night's sleep. This means the space will need to feel calm with plenty of storage solutions behind closed doors. However, you may also have key prized possessions you'll want on display.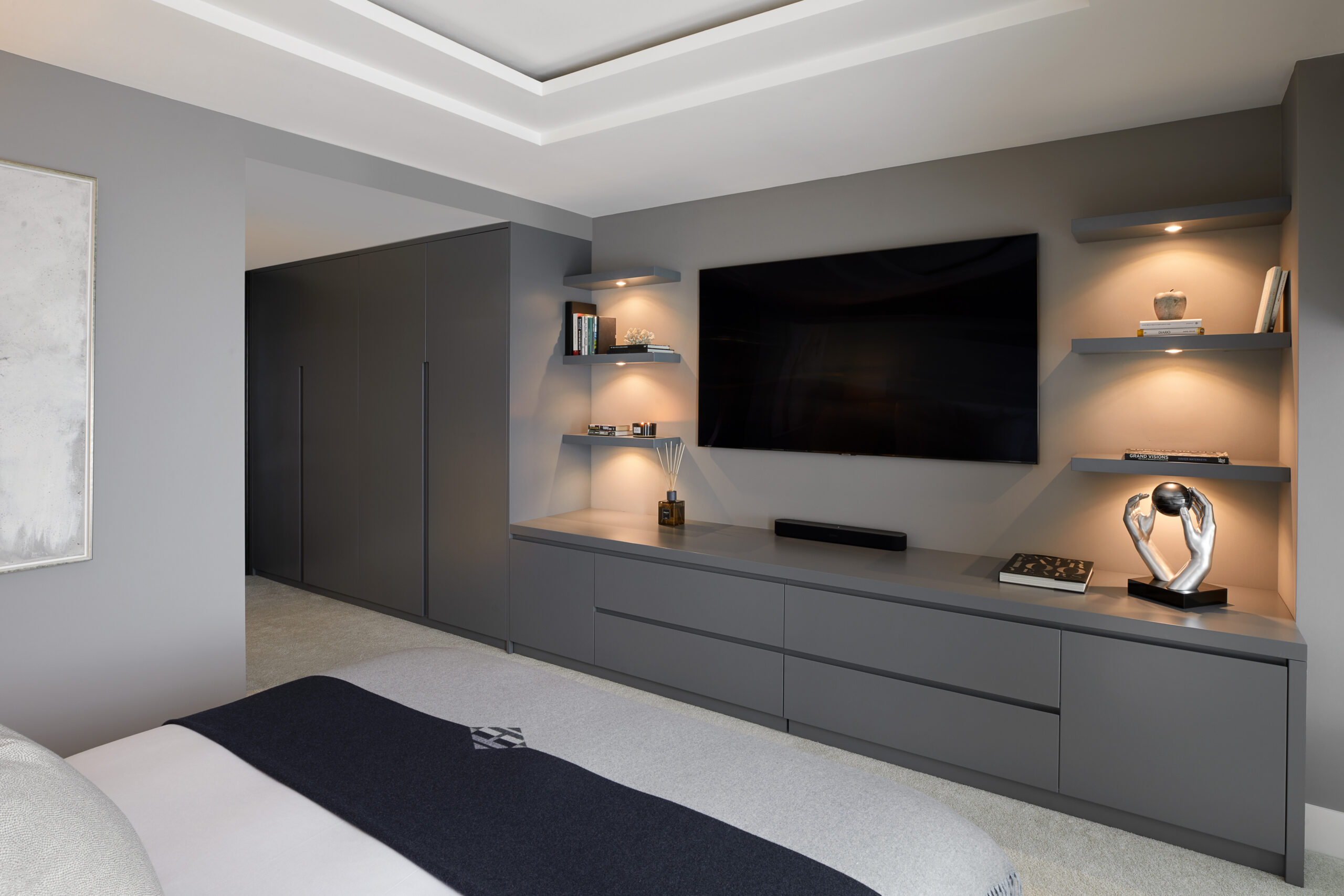 We designed this bespoke floor-to-ceiling wardrobe with dedicated interior storage solutions to cater for our client's handbag and couture clothing collections. The doors are handleless to accommodate this narrow area and they help to create a sleek, minimalist finish
Bespoke storage may be just what you need. We will ask you what sort of look you want to achieve and who will be using this storage. If you're looking for display space, we can factor in bespoke shelving with strategically placed lighting on every shelf. We will discuss exactly what you need to store inside and which items you use regularly. Then, we work on the bespoke internal storage to make sure you have a place for everything. This could include internal drawers with shelving for your prized handbag collection or a designated shelf for neatly rolled ties.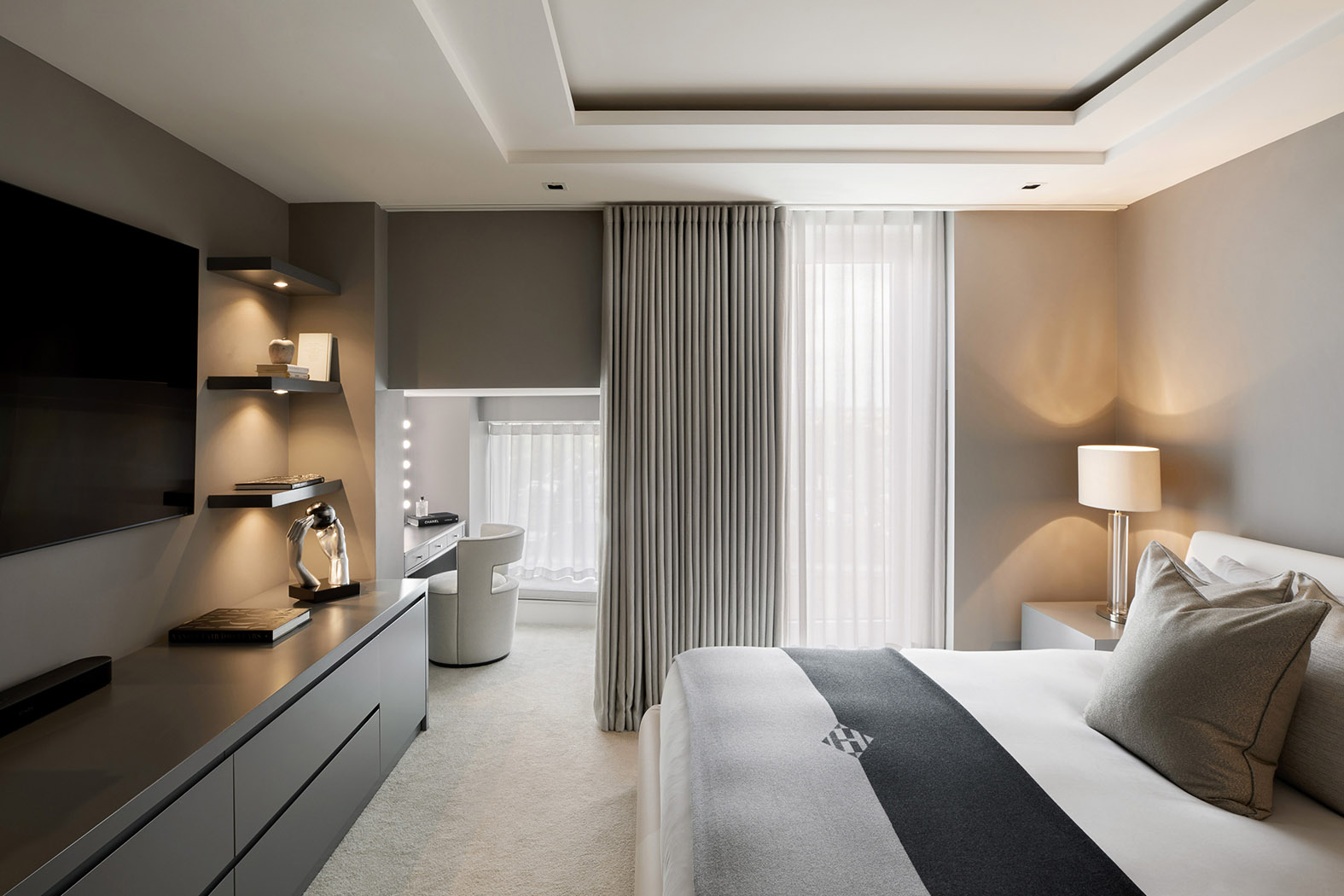 This bespoke TV unit and shelves help to create a more relaxing mood in this bedroom. This design ties in perfectly with the rest of the decor, which we created to meet our client's brief for a dark, moody room they can retreat to for a restful night's sleep
Considering awkward spaces
We also specialise in providing bespoke furniture design for difficult areas. This way, we can help to maximise every inch of your space. Think of a home office neatly packed behind furniture doors beneath the stairs or a loft extension where a bespoke storage solution is required for the eaves. The awkward nooks and crannies don't need to go to waste because bespoke furniture design will always make the most of unused, 'difficult' spaces.
Innovative design
We are renowned for our innovative design ideas and we're all for creating fun and functional pieces of furniture. One such example is a secret door bookcase, which leads into a room you wouldn't know is there. We work with specialist joiners who can build these into your home. So, you will benefit from functional furniture, where you can store books. However, this also hides a door which may lead to a room you'd like to keep private, such as a home office.
Our client's children wanted something fun and mysterious in their home redesign. So, we planned this innovative secret door bookcase into the design, which leads to a private home office. This also helps to isolate this room from a busy family home, with better sound-proofing when compared to an internal door. As a result, they can work without any noise distractions
Did you know I am a renowned colour specialist? I can help you choose appealing shades, you particularly like, for your home. Read my blog here for information on how to use the colour wheel and here for more details on colour personalities.
Get in touch to discuss your project!
Moretti Interior Design are top interior designers in London. We are commercial interior designers, hotel interior designers, local interior designers, restaurant interior designers and much more…