Interior design ideas: how to decorate with dark shades
Moretti Blog   •   April, 2022
I
f you're afraid of using dark colours to enhance your home, think again. In fact, darker shades can leave rooms feeling luxurious and add an element of cosiness. However, the key is the way in which you use these colours to gain your desired effect. So, here I'm discussing dark interior design ideas; more specifically, deep, dark shades of paint, furniture, accessories and lighting.
Many of us realise that colour is such a powerful interior design tool. After all, it can instantly transform the mood and function of a space. In fact, the study of colour psychology shows us how different shades can affect virtually everything we think, feel and do. We are all innately drawn to certain colours and repelled by others. However, dark interior design ideas are often rejected purely because of the misconception that dark colours are gloomy and depressing. I beg to differ. Used intelligently, a dark palette can bring so many benefits to almost any type and size of room. So, be brave, read on and prepare to embrace your dark side!
Dark grey walls are a wonderful neutral backdrop that combine well with so many other colours, from brights to beiges
See beyond 50 shades of grey
Mention dark interior design ideas, and most people immediately think of charcoal grey. It's easy to understand why. The most versatile of neutrals, grey works with a wide range of other colours, including pastels, beige, cream and taupe. Grey adds instant sophistication to almost any interior, and complements both classic and contemporary room schemes. It doesn't date, it pairs well with natural materials and biophilic design principles. It's also easy to incorporate into popular decorating trends such as Japandi.
But dark interior design ideas can encompass more than 50 shades of grey. Also consider chocolate brown, forest green, indigo blue and ruby red. All of these colours (and the ever-popular grey) are rich, bold and interesting. Importantly, they can be used separately, or in different combinations, to create striking dark room schemes that will elevate your home.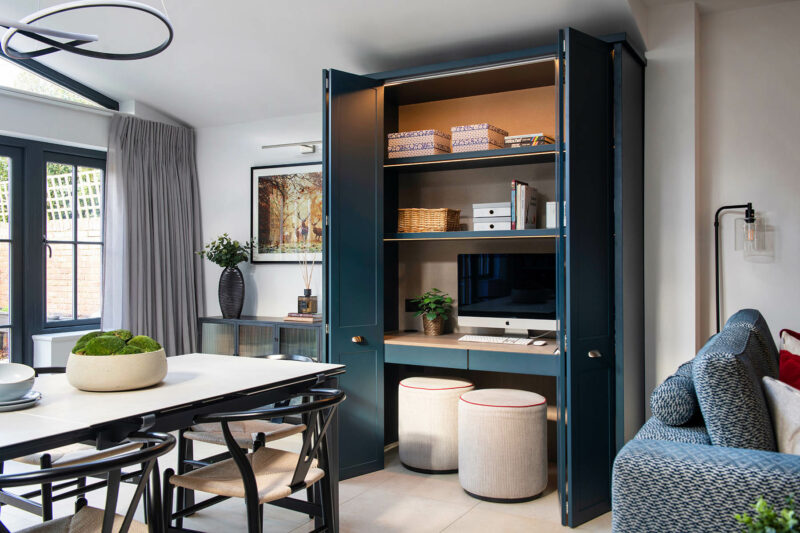 Using tints, tone and shades of darker colours in the same space helps a design scheme to feel less overpowering. This is a particular advantage when a space has to multitask, like this open-plan kitchen/home office
Interior design ideas embrace planning
Proper planning is an instrumental part of any interior design scheme or project, but it's even more important when considering dark colours. Think carefully about where, why and how your dark colours will be used. For example, will you use dark paint on your walls? If so, on all of them, or just an accent wall? Will you choose dark furniture? What about the colour of your soft furnishings and woodwork? Or will you 'test the waters' first with a selection of dark accessories? The possibilities really are limitless. So, consider what you want to achieve, the size, proportions and functions of the room(s) in question and, of course, your own personal preferences.
If you're worried that using dark colours will make a space look smaller, keep your walls light, but go dark with your woodwork. It's not just super stylish, it's practical too – especially in high-traffic areas like this entrance hall
Does size matter?
Contrary to popular belief, dark interior design ideas aren't just for large, spacious rooms. Dark colours can work just as well in small spaces – in fact, they can give a small room a much bigger presence. I'm a big fan of dark bathrooms/cloakrooms – they have so much personality and glamour. However, there are a few key guidelines to follow when using dark colours in smaller spaces.
If you've chosen dark walls, keep your ceiling lighter. This will give the illusion of height, and keep the room from feeling too dreary and claustrophobic. Similarly, do something different with the floor – a contrasting pattern usually works well. Think hard about your textures. Dark, glossy tiles look great on small bathroom walls, as opposed to matt, flat wall coverings. However, if you do choose dark paint, make sure it's the specialist kind that can withstand moisture and humidity.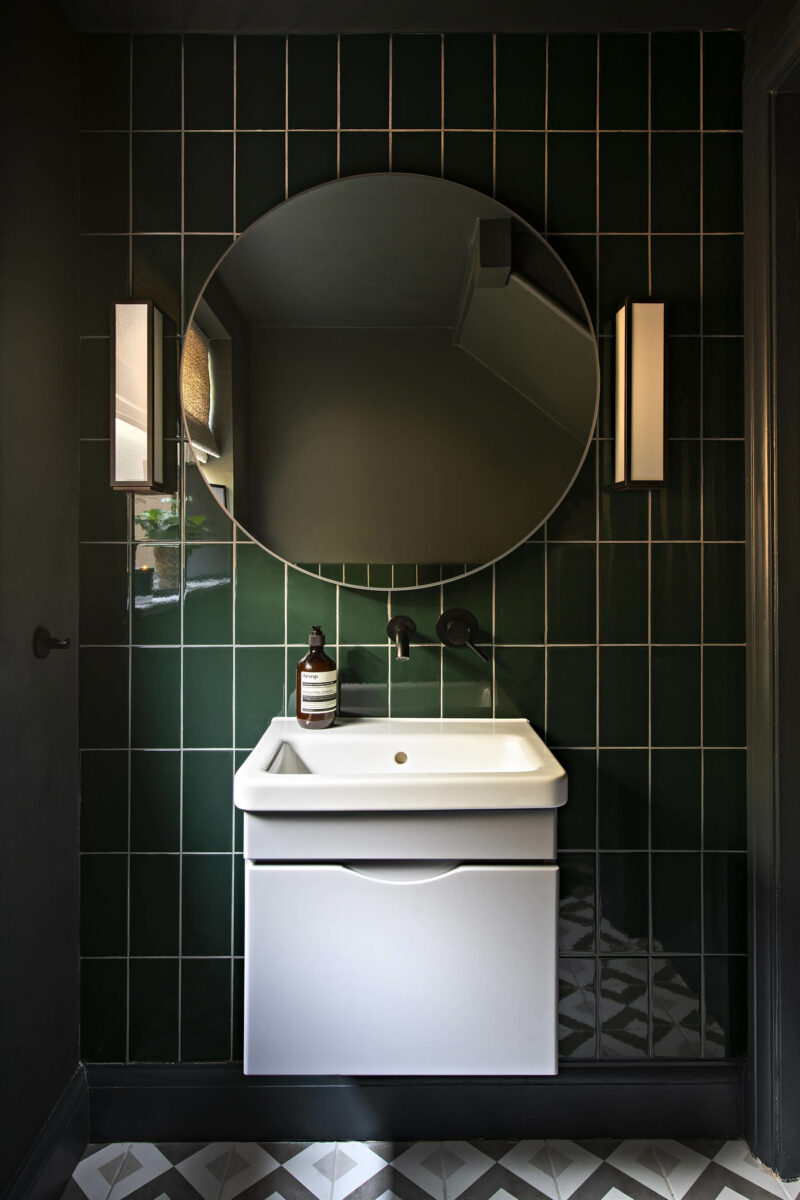 A compact cloakroom is the ideal design environment for experimenting with dark colours. Introduce textures and patterns – and perhaps a statement mirror – to prevent a dark palette from feeling too overwhelming
Contrasts & textures
Larger rooms offer much more scope to experiment with dark interior design ideas. Dark colours can help to warm up a big space, and create a more welcoming ambience. My team and I used dark, deep tones throughout this recent Richmond Park renovation, to create a relaxed, cosy and inviting feel. This project features throughout this blog and showcases the following:- the open-plan kitchen joinery features Farrow & Ball's Hague Blue with the doors and door frames in Farrow & Ball Railing. We chose Farrow & Ball Studio Green for the bathroom walls. In the reception room, you'll see Farrow & Balls Basalt on the joinery. These all provide great examples where dark and interesting colours work very well in light, airy rooms. This has created a result that manages to be both clean and contemporary, but still familiar and traditional. The key is to use a range of different textures, fabrics and finishes, to give each room its own personality.
Dark kitchens & living rooms
Instagram and Pinterest have been crammed full of dark kitchen images for years. Im fact, I fully understand the appeal, on many levels. Dark kitchens can look amazing. But the kitchen is a hard-working, high-traffic area of the home. So, it's a room where you also need to make practical and durable choices.
I'm a big fan of dark kitchen cabinetry. It looks super stylish, but hides a multitude of sins, and withstands far more wear and tear than lighter or neutral colours. I often co-ordinate dark units with matching woodwork, then contrast these with pale walls and ceilings.
Interior design ideas with light & shade
Reception/living rooms are usually family rooms. These are multi-purpose spaces where most people go to watch TV, read, listen to music or simply enjoy the company of friends and family.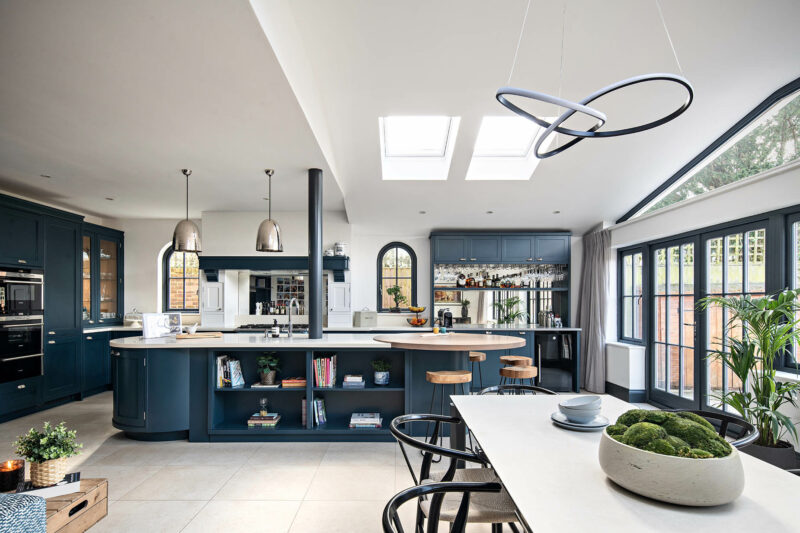 Dark cabinetry paired with matching woodwork is the perfect foil for pale floors, walls and ceilings. This helps to unify this kitchen's classic and contemporary elements for a cohesive look
I love using dark blues and greys for clients' living rooms. Grey paint (or wallpaper) is a wonderfully neutral background that can be paired successfully with such a wide range of other colours and accessories. It's a great way to create a more intimate mood, but also works well with contrasting pops of colour, to add fun and interest to the overall aesthetic. Brightly coloured cushions are a fast, easy win – or if you're feeling adventurous, do consider a statement velvet sofa in cerise, turquoise or yellow.
Make the most of metallics
Metallic fixtures and accessories are a wonderful way to help prevent dark interior design ideas from overwhelming a space. Install a statement mirror to bounce the light around (especially within a compact cloakroom), choose metal vases and planters, and highlight artwork with metallic frames.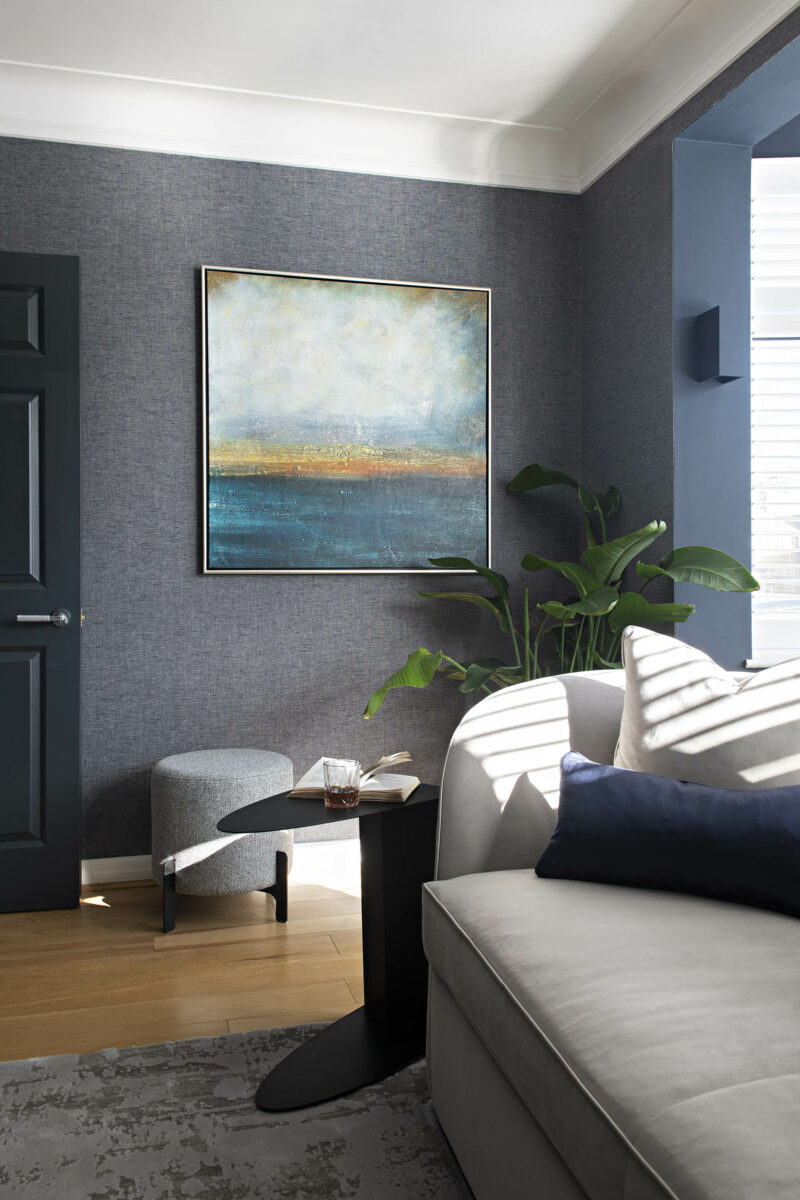 Metallic accessories, like this picture frame, are an easy, effective way to break up a dark space
On-trend copper, brass and gold are softer, warmer shades, but chrome and/or pewter hardware often works well within kitchens. And don't be afraid to mix and match. Combining different metallics within dark interiors adds richness, depth and interest. You can group similar metals like gold, rose gold and brass, or even contrast cool and warm metals, depending on how dramatic you'd like the overall effect to be.
Interested to learn more about tried-and-tested colour combinations? Click here to discover how to use a colour wheel in interior design.
Get in touch to discuss your project!
Moretti Interior Design are top interior designers in London. We are commercial interior designers, hotel interior designers, local interior designers, restaurant interior designers and much more…