Luxury home office ideas
Moretti Blog   •   July, 2022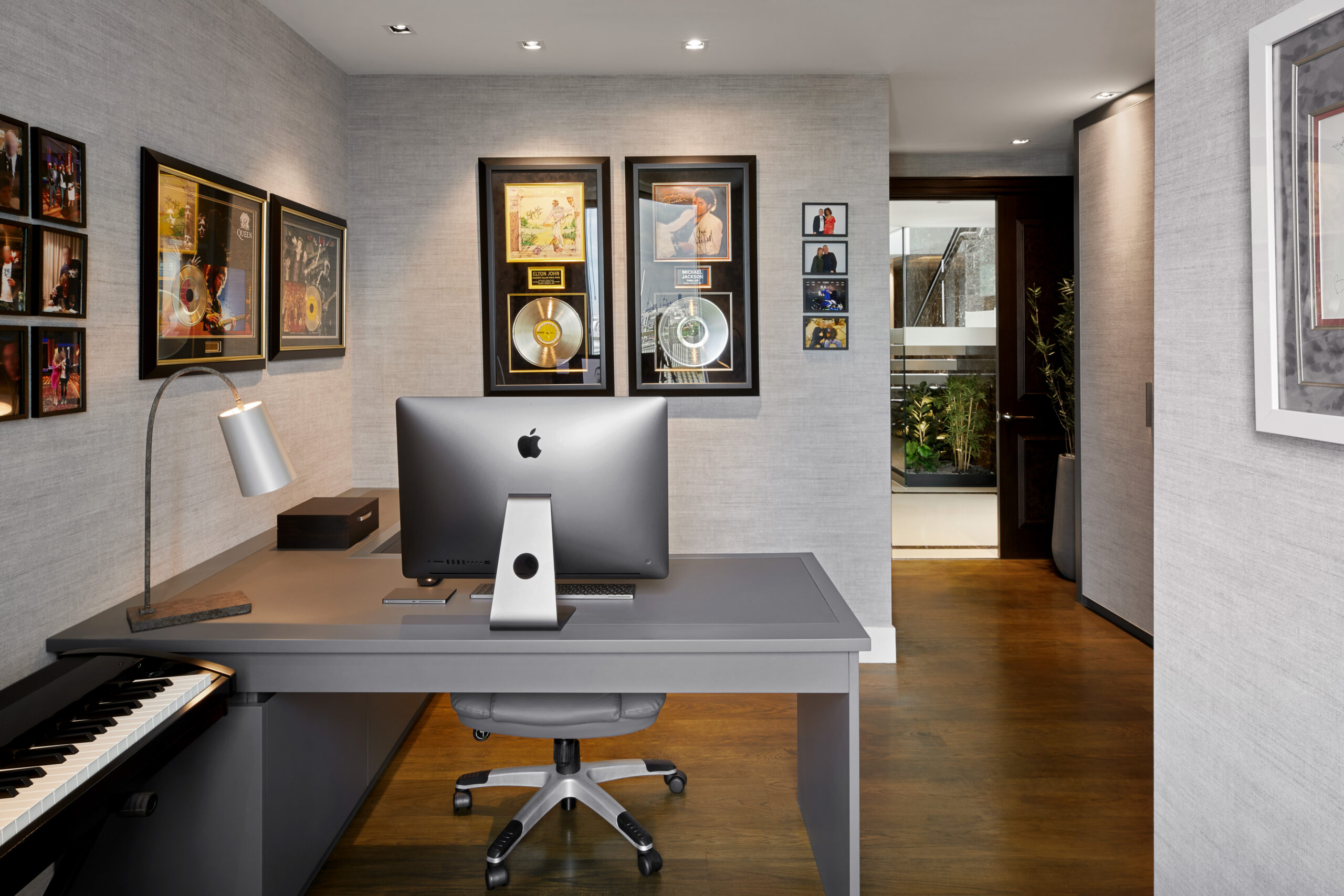 Working from home used to be the exception rather than the rule. But, since the enforced switch to remote working during the Covid-19 pandemic, attitudes have changed. Now, the hybrid model (combining office and home working) is more of the norm, with working entirely from home also growing in popularity.  One way or another, the future of home working looks bright. So, follow my home office ideas on how to create a luxury space that motivates your home working mojo, from finding a theme to creating a hidden haven:
The right balance
Finding clever design ideas to combine office and home life is essential. Creating a luxury home office is all about getting the balance right. You want a space that feeds your creativity and inspires work routines, while feeling stylish and homely. Shape, size, storage, views, light and vantage points are just some of the factors that can influence your choices. But, how you intend to use your office space is also important. You might work from home full-time, need a room with dual functionality for hobbies or simply need space for 'life-min'. Whatever your requirements, having a dedicated work area can help you swerve household distractions.
Maximise multi-purpose zones
Combining style with practicality is a must when it comes to home office ideas in a multi-functional space. Our client's Richmond family home didn't have a dedicated office, but the homeowner loved the idea of being able to work with a view onto the garden. So, we used the open-plan kitchen diner and living space to accommodate a compact, yet highly functional, home office area. This space provides plenty of room for her to work with enough scope for storage.
The brief was to create an office area that would blend seamlessly with the kitchen. This included ample space for all paperwork and the computer, which could be hidden behind closed doors in the evenings. This way, the client could forget about work and still enjoy family time in the same area. After all, the opportunity to hide your work space should always be an important factor when carefully planning a bespoke home office, which will still positively impact your wellbeing.
We designed and created a stylish bespoke tall unit fit for a perfect home office, which we finished in the same colour-way as the kitchen cabinets. This way, we could blend the furniture with the open-plan kitchen design for a seamless flow throughout this space. A desk area with slimline drawers neatly accommodates two seats below with bespoke shelving above, where we featured textured wallpaper at the back to create more contrast. However, everything can be enclosed with the beautiful bi-fold doors we designed when the client needs a break, which helps to complete an uncluttered look.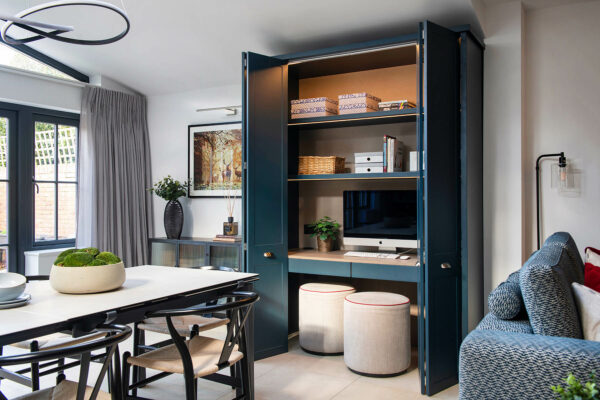 Creating space to unfold. Our client's office in Richmond features plenty of smart storage and ample room for a desk, which integrates seamlessly into their open plan kitchen/diner
Add elegance to form and function
Even if you have a separate office for your working from home space, sometimes designs need to work harder to accommodate dual functionality. When your office needs to double up as a guest room, then adding an elegant twist can be the answer. This was one of our home office ideas for our Chiswick client, where a stylish sofa bed added a sophisticated spin to welcome guests to their modern family home. This also enabled the client to sit down, relax and enjoy some reading space.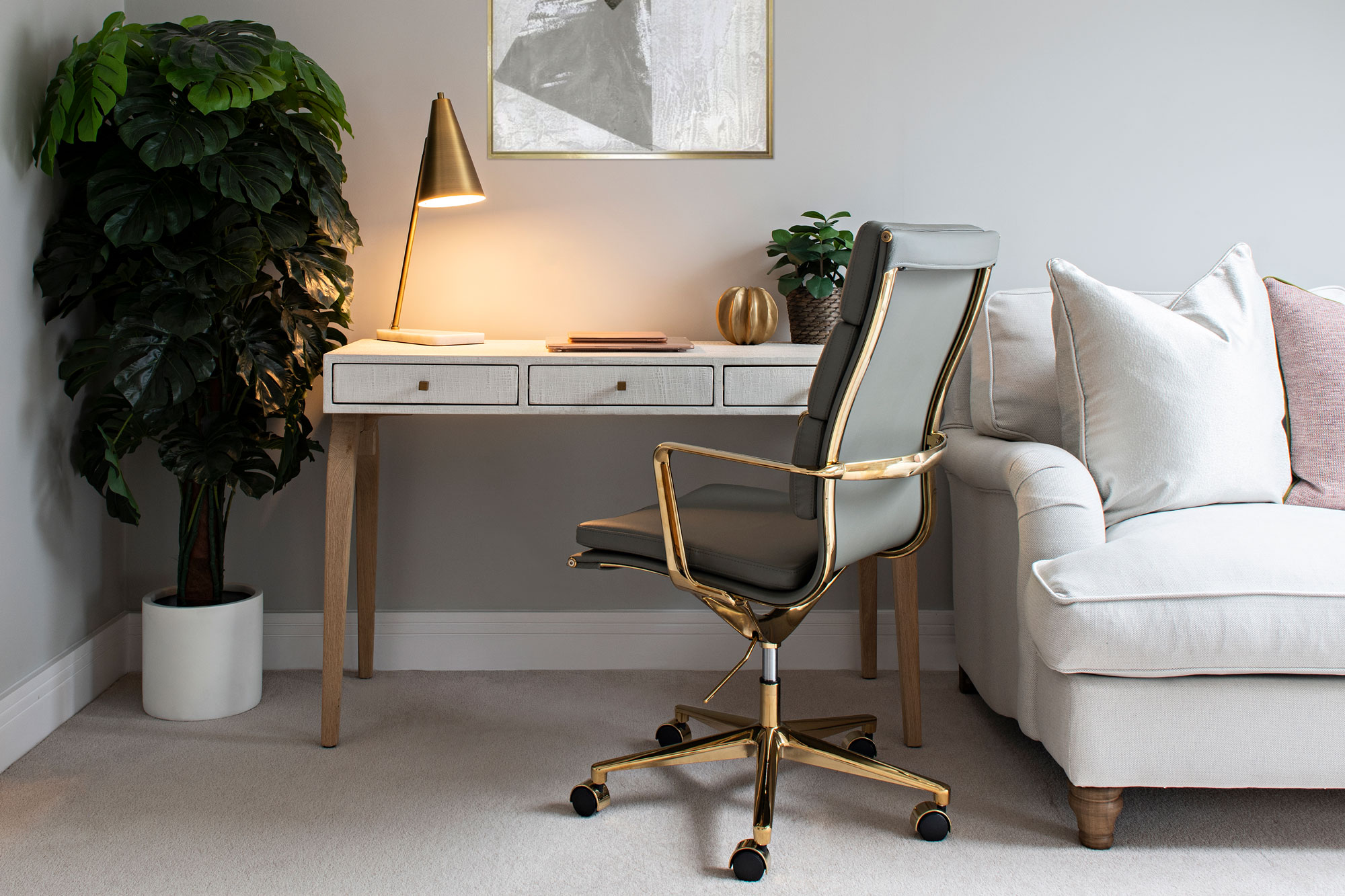 Dual focus. A stylish sofa bed adds a chic feel to our client's home office in Chiswick, which also doubles up as a guest room
Home office ideas with a textured twist
If you want to create an office environment that you can also transform into an after-work haven, this takes careful planning. So, we did exactly this with our penthouse renovation on Kensington High Street. In fact, we created an office within an originally open-plan space. The client wanted a place to work and have Zoom calls for the majority of the time. But this also needed to be a space to retire in after a busy day and relax with a glass of wine.
So, here we opted for a masculine feel, with a defined colour palette that blends well with the penthouse interior. Beautiful textured wallpaper in soft muted grey tones is one of our home office ideas which has helped to embrace a snug, yet super-stylish, design. A bespoke desk, featuring a sleek leather top, enhances the contemporary look.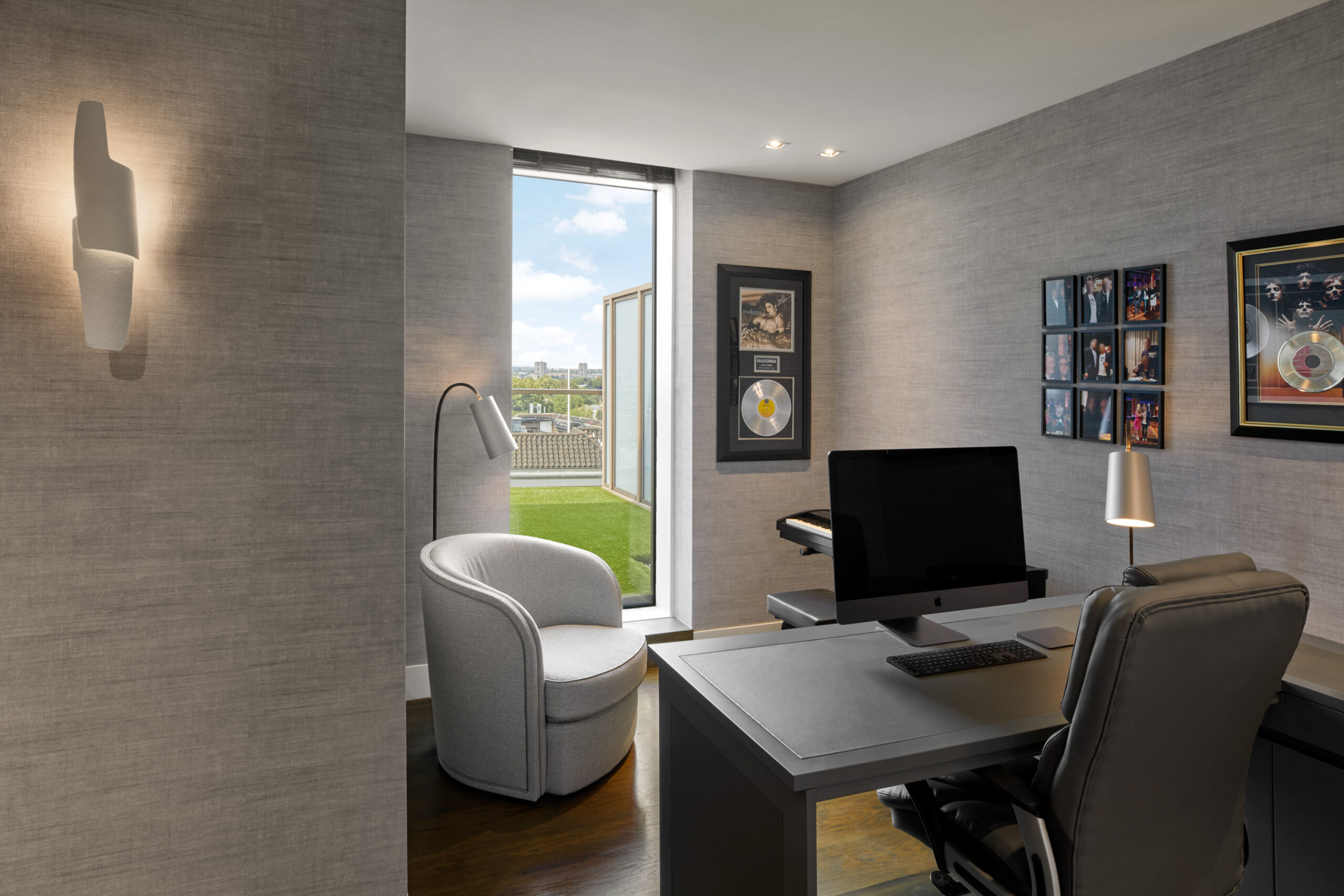 From work to play. Luxurious textured wallpaper adds a sophisticated touch to a penthouse office worthy of both work and unwinding
Create a hidden haven
Concealing the workspace when you want some downtime can be a great way of dialling out. Whether you shut a door or close a hatch, it can help you switch into a more relaxed mindset. With our client's Victorian house in West London, we took home office ideas to another level. Here, we created a secret door to the office, so that the entrance isn't obvious and creates a natural flow with the internal space. This well-insulated door is disguised as a bookcase and on a practical level creates a peaceful environment. It's perfect for privacy, busy calls and avoiding household disruptions. We also used a concealed space for the printer and office files. So, you can add this to your list of home office ideas if you're looking for utmost privacy.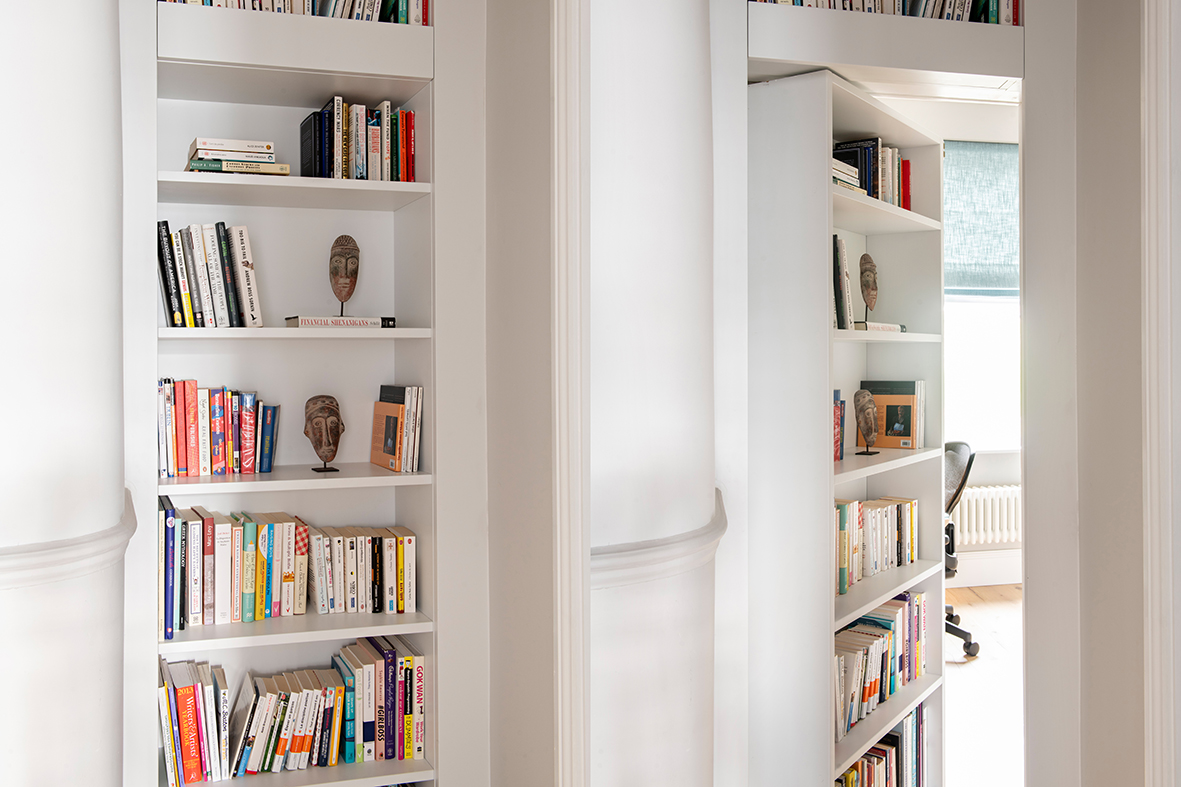 Behind closed doors. This white and bright office hideaway enables our client in West London to avoid noise and disturbances.
Home office ideas with a theme
Letting your imagination run wild by creating an office theme, can help transform your mind to another time or place. This demonstrates just how home office ideas can truly promote escapism. At our client's luxury flat in Nine Elms, Battersea, we adopted an Explorer theme for their working from home space. This was, in fact, inspired by their grandfather's compass. They wanted a room to work in, where they could also relax and read about travel, including space to showcase art collected from their adventures. So, we created a place where they could dream and forget about the outside world. As you can see, carefully selected items embrace the Explorer concept, including the Old World map. We specifically researched this as a bespoke piece of art, which was then produced in Italy, featuring exquisite silk wallpaper.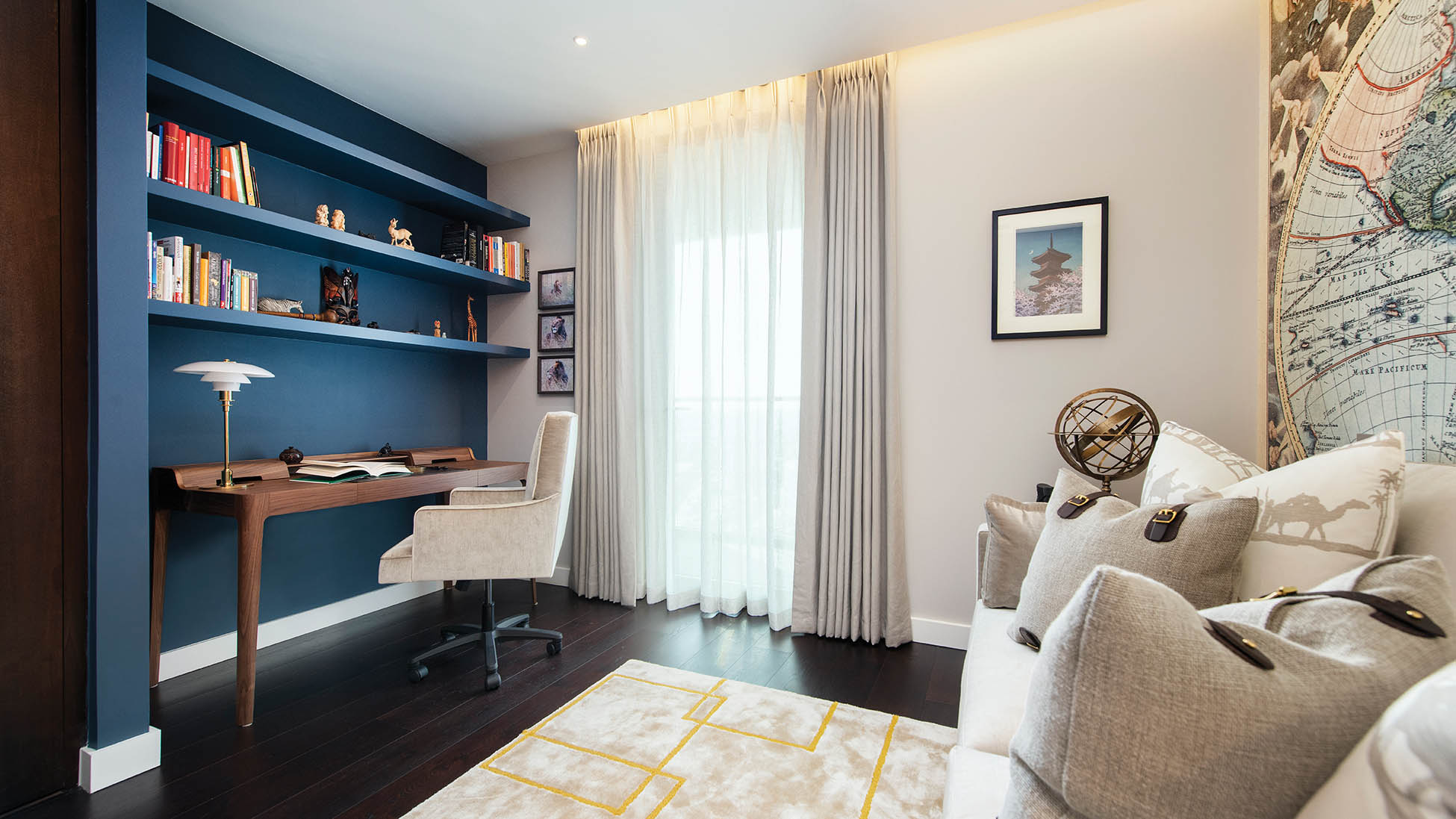 Signature selections. Pulling in pieces to marry your office theme, such as this Old World map, give it individuality and character. Art also adds a personal touch
Find out why sustainable design is so important in the bathroom and how to achieve this is in your home with our expert guide
Get in touch to discuss your project!
Moretti Interior Design are top interior designers in London. We are commercial interior designers, hotel interior designers, local interior designers, restaurant interior designers and much more…